To the nursery that is.
DH has finally moved one of the big pieces of furniture out of the nursery. Have a few more things that need to be moved as well.
I can't really paint my mural yet until we find out the gender. DH wants to paint the walls I'm not doing them on certain colors and w/ the mural in my head... I'm going to need that done before I get started.
No more scary tree ladies in the nursery :(
DH REALLY wanted the stickers taken down b/c he just didn't think it would look right. He was pointing out areas that were already coming loose and then.. yeah.. we both started to just take them down.
Breaks my heart to see it taken down. I just spent SO much time on them.. sucks.
RIP scary tree ladies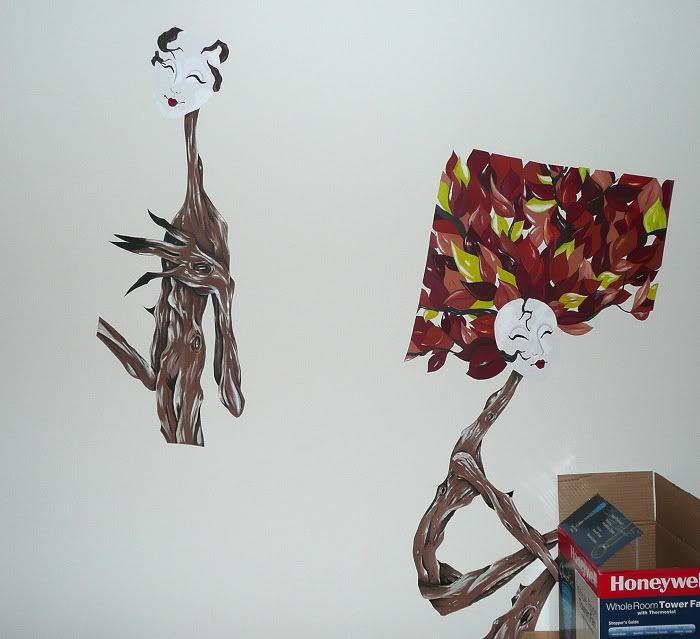 I could just redo them straight on to the wall, but I really don't like completely starting over on the same thing.
I have a new idea though!
Since it's the year of the dragon and that will be our LOs chinese zodiac sign... then I'm going to do a big foresty scene w/ dragons in it :D
Not sure exactly what to do yet. I was thinking maybe a big sleeping dragon surrounded by fantasy creatures and smaller dragons, but meh, not sure if I entirely like that idea b/c the sleeping dragon could end up looking dead or something lol.
Another idea... have a foresty scene with lots of smaller dragons w/ other fantasy creatures. Think I like this one better. Would probably be more work, but still kinda easier design-wise for myself.
Gonna have to really sit down and sketch it out soon so I'll be able to change what I don't like etc and then get the outline on the wall.
Speaking of DH painting the other walls. He's a big fan of Weezer. Not like a super crazy fanatic or anything, but he really enjoys them.
He wants to do the walls striped w/ Weezer Blue album blue and Weezer Green album green.
Just... no.... no. The colors are WAY too bold to do 2+ walls in.
He wants to do the blue green combo if it's a boy. If this lil one is a boy... he better pick a couple shades lighter than those. lol