Zoe that is.... she got a TON of stuff!
DH and I bought her a few books, and the rest of it is from everyone else.
The photo really doesn't do the amount she got justice. The laundry basket is packed and yeah.... we're not gonna have to buy any toys for her for a VERY long time.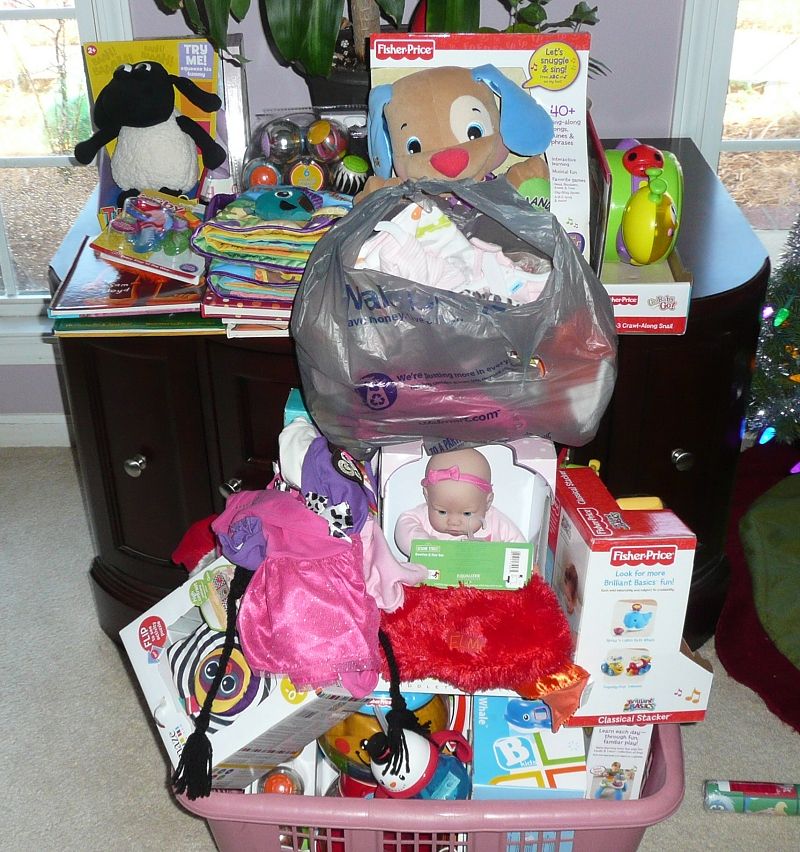 Sigh... I TOTALLY didn't take enough photos yesterday though. DOH.
I have a few where family is holding Zoe, but none of them really turned out all that great. Damnit.
None of just Zoe though... oh well...
Yesterday was good though. Good food, decent company.
DH's oldest sis gave us the neatest little gift
It doesn't look like Zoe too much b/c the nose is puckered out some, but it's still super cute :D Our Christmas tree is gonna have nothing but photo ornaments on it :P lol
I went to Old Navy and Target this morning.
Frickin hate Old Navy. Cheap bastards never restock the shit they have on sale. Oh come on in and get 75% off of FUCKING NOTHING BECAUSE WE REFUSE TO RESTOCK THE STUFF THAT'S ON SALE!
I wanted to look at the coats they have on sale, but they had NONE out on display. WTF?? Women's t-shirts?? PFFT NOPE...
I did buy a cute onesie for Zoe (it's a 'boy' onesie w/ a UFO and alien on it) and a t-shirt for DH.
When I got home I bought a few things online. Hell, even that was a PITA b/c a lot of the things I liked they were out of stock in the sizes I wanted.
Then headed to Target to check out the Christmas stuff. It was 50% off. I bought a few rolls of wrapping paper, tags and a rattle for Zoe.
I wanted some garland but it was still $4 which is too much for that stuff.
Would've gone to more places but it was a very ugly morning. Lots of rain and really windy and I was just ready to go home. Xmas section at Target after Christmas is a frickin feeding frenzy of soccer moms trying to score cheap Christmas crap for the next year.