Was messing around with the new camera the other day and got some pretty good shots of Zoe that I just wanted to share.
These were taken right before her bedtime. Her daddy was being most entertaining b/c she was all smiles for him :)
GAH! Looking at these photos... I see her growing up and looking like a little girl, but my heart still wants to see her as a baby.
And a photo of our tiny Pippin. This is going to sound so bad, but I'm loving him a bit more now that I don't have to clean up piss or poop off the carpet every day :P
Even though he's just over 3lbs.. he makes one heck of a good snuggle buddy at night.
And finally...
Just took this a few mins ago... 36w2d (by LMP)....
And just for comparison sake... here I am at 36w with Zoe..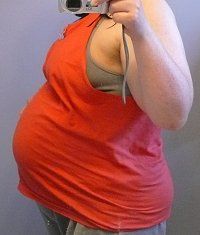 Hmm.... looks about the same I think?