Ok so, not what I was hoping for. Was hoping it would be like when I found out I was pregnant with Zoe. Shadowy something on a wondfo and a faint but obvious line on a FRER.
But no such luck.
First glance to non POASaholics, it looks BFN, but there is something there.
NOT saying it's BFP b/c it could definitely be the test line showing like has happened with many tests.
I tried getting a photo. It's a squinter for sure, even tweaked.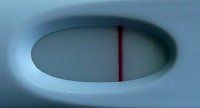 I'm leaning towards the wondfo being faulty and the FRER just showing a non positive test strip.
Going to probably go through all of my wondfo HPTs in the next few days but well, I need answers!
The last 2 FRERs will be saved if anything else shows up on a wondfo. Just have to remember to save the pee :P When have you ever heard THAT said before? hehe
Another photo in different light, still tweaked some. Still can barely see the 2nd line, but it's a little better than the one above.